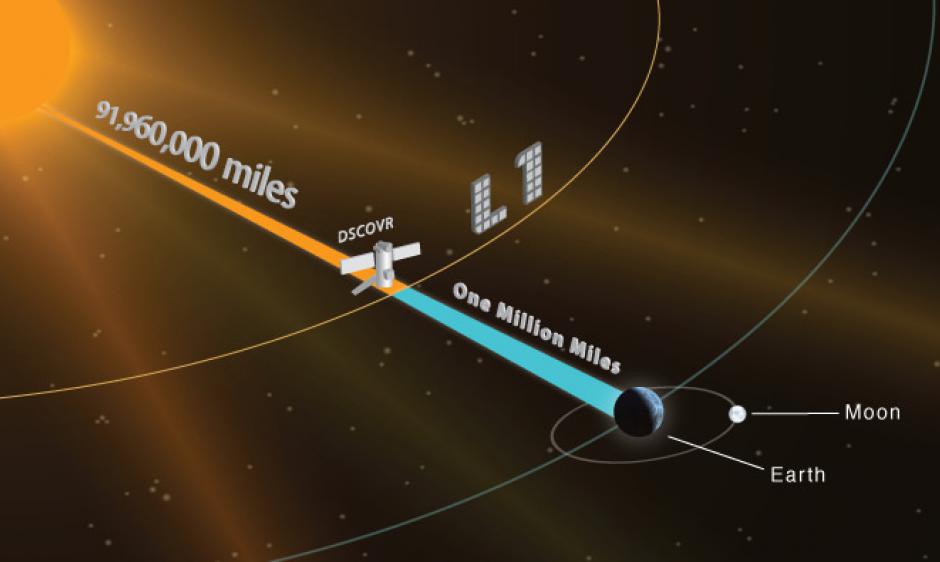 27 July 2016 - It's all systems go for NOAA's first deep-space space weather satellite
published: Friday, November 18, 2016 14:36 UTC
Beginning at Noon EDT (1600 UTC) on Wednesday, July 27, 2016, SWPC will start using data from NOAA's Deep Space Climate Observatory (DSCOVR) spacecraft in its operations.  DSCOVR replaces data currently used operationally at SWPC from NASA's aging research satellite, the Advanced Composition Explorer (ACE).  DSCOVR was launched on February 11, 2015, and reached final orbit on June 8, 2015 orbiting a position located 1 million miles toward the Sun from Earth.  At this special location the spacecraft always remains between the Sun and the Earth where it serves as a distant early-warning sentinel, like a tsunami buoy in space, to alert NOAA of incoming eruptions from the Sun.
DSCOVR's primary space weather sensors are the Faraday Cup plasma sensor, which measures the velocity, density and temperature of the solar wind, and a Magnetometer, which measures the strength and direction of the solar wind magnetic field. Together, the instruments provide SWPC forecasters with the necessary information to issue geomagnetic storm warnings.  DSCOVR does not have all of the instruments that the NASA ACE research spacecraft has and will not be able to provide a replacement to the SIS and EPAM measurements.
SWPC will utilize the Real-Time Solar Wind Network (RTSWnet) to acquire DSCOVR data and send it to SWPC for processing.  Today this network acquires real-time NASA ACE data.  Once SWPC's RTSWnet partners switch to DSCOVR, SWPC will no longer be able to offer real-time NASA ACE data.  If in the future ACE data become available in real-time from an alternate network, SWPC will continue to serve ACE real-time data as well.
DSCOVR data will be available in real-time at:
http://www.swpc.noaa.gov/products/real-time-solar-wind  
From that page, users can download data, create plots, and find links to other ways to access real-time and archived data. These links are currently populated with NASA ACE data.  On July 27th, the links will be populated with data from DSCOVR.
Archived data from DSCOVR (data older than 1 day) will be available at the NOAA Satellite and Information Service (NESDIS) National Centers for Environmental Information (NCEI) site located at:
http://www.ngdc.noaa.gov/dscovr/