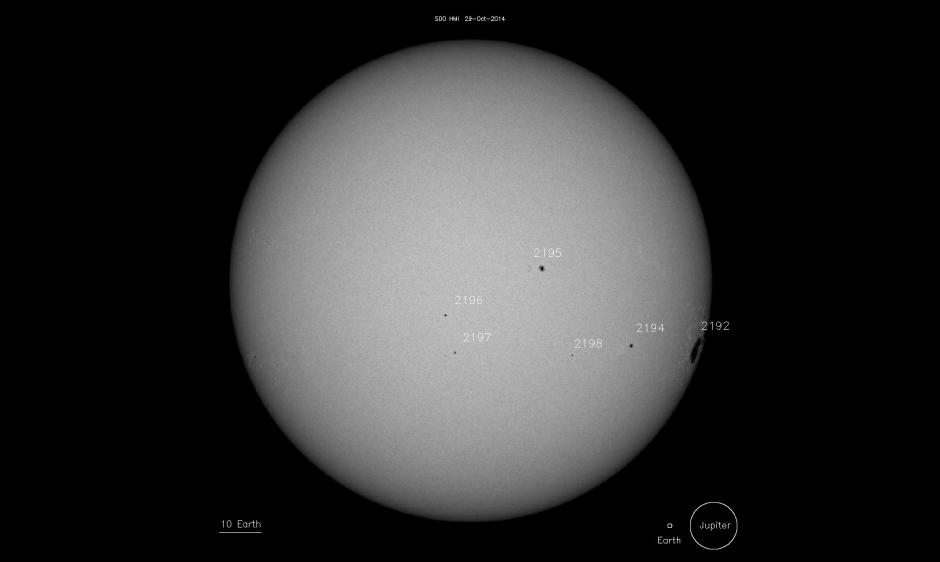 Almost Out of View - Still a Threat
published: Thursday, October 30, 2014 14:22 UTC
Region 2192 continues to produce M-class (NOAA Scale R1 - minor) solar flares, even while rotating off the visible solar disk from Earth's perspective. While there was greater risk for a coronal mass ejection (CME) that could have impacted Earth when this region was near center disk, the current location creates a greater risk for another type of space weather phenomenon; solar radiation storms (NOAA S Scales). This is due to the orientation of magnetic field lines allowing the propagation of such particles near Earth.
Solar radiation storms can create problems for operations at the ISS, satellite operations, and HF communication over the magnetic poles - which can degrade cross-polar global aviation operations.
The bottom line...until this region has fully exited the limb of the visible solar disk, it remains a threat for solar flares and radiation storms.
As always, you can sign up to receive free email notifications for any space weather activity thresholds at the SWPC Product Subscription Service (https://pss.swpc.noaa.gov/Login).