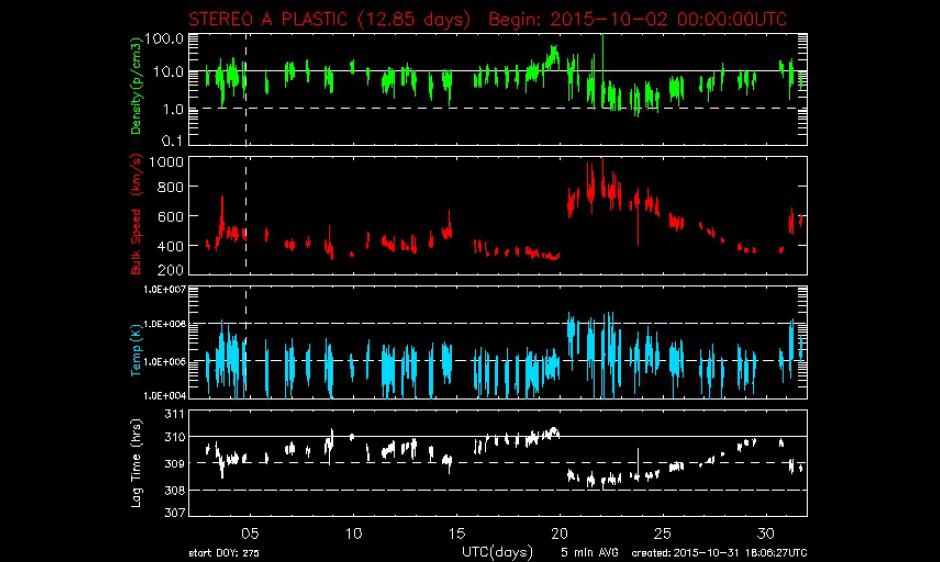 G3 (Strong) Geomagnetic Storm Watch Issued for 02-03 November, G2 (Moderate) Watch for 04 November
published: Wednesday, November 04, 2015 21:23 UTC
The arrival of a recurrent coronal hole high speed stream has been delayed, and may straddle the 02-03 November (UTC) transition. 
G3 conditions were observed last rotation from this feature.   Consequently, the G3 (Strong) geomagnetic storm watch issued for 02 November has been extended to include 03 November.  A G2 (Moderate) watch has been issued for 04 November. 
The image is a 30 day plot of the solar wind as it was seen at the STEREO spacecraft.  The high speed stream passed by the spacecraft on the backside of the Sun on 20 October.  This gives forecasters a good estimate of when to expect the coronal hole to impact the Earth as well as possible solar wind speeds we might see. To learn more about coronal holes, check out http://www.swpc.noaa.gov/phenomena/coronal-holes .