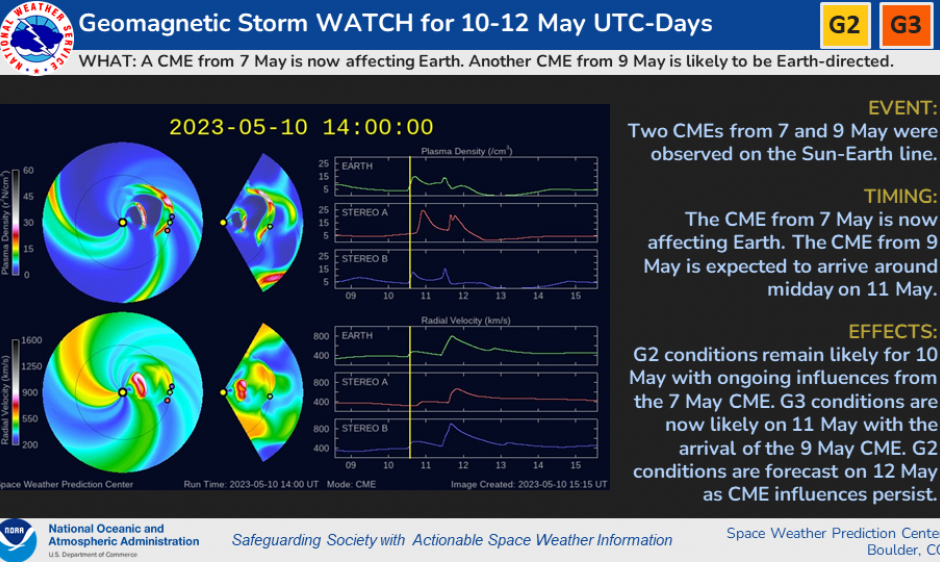 G3 (Strong) Geomagnetic Storm Watch Now in Effect for 11 May
published: Saturday, May 13, 2023 12:35 UTC
The Earth is currently being influenced by a CME that erupted from the Sun on 7 May. As of this posting, G1 (Minor) storm levels have so far been observed today and G2 (Moderate) levels remain likely through the remainder of the day.
Another CME erupted from the Sun on 9 May. This partial halo CME was associated with an M4 flare from sunspot Region 3296 and was first observed in SOHO coronagraph imagery on 9 May around 1900 UTC moving between 1400-1600 km/s. Forecasters predict a component of this CME will arrive at Earth by midday on 11 May as a G3 (Strong) geomagnetic storm while the bulk of the eruptive material passes ahead and north of Earth's orbit. G2 (Moderate) storming is likely into 12 May with ongoing CME influences.
Continue to monitor spaceweather.gov for additional updates.