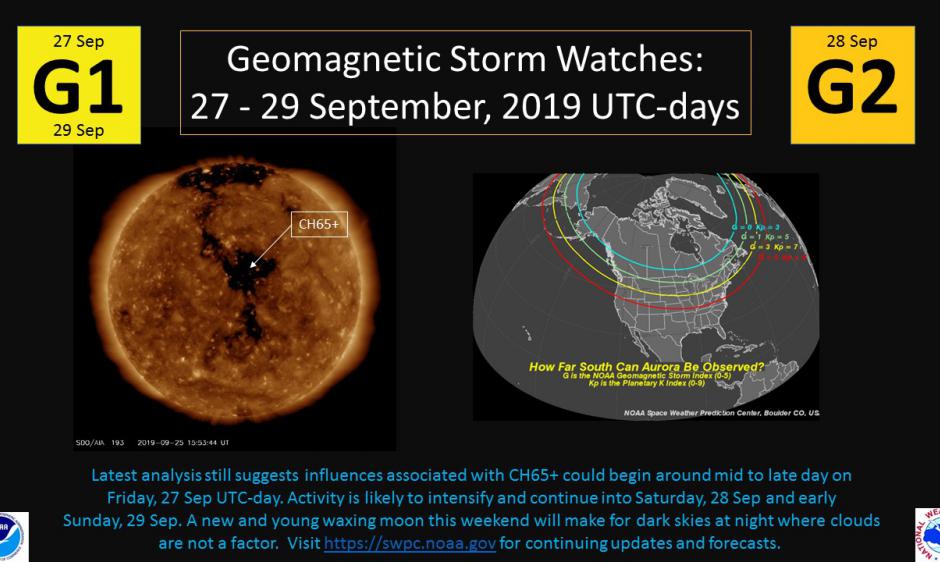 Geomagnetic Storm Watches for 27-29 September
published: Monday, September 30, 2019 14:09 UTC
Geomagnetic Storm Watches have been issued for 27-29 September, 2019 UTC-days:
G1 (Minor) Storm Watch: Friday, September 27 UTC-day
G2 (Moderate) Storm Watch: Saturday, September 28 UTC-day
G1 (Minor) Storm Watch: Sunday, September 29 UTC-day
Geomagnetic activity is expected to rise on Friday, September 27 due to an increasingly disturbed solar wind field associated with effects of a positive polarity coronal hole high speed stream (CH HSS). The solar wind environment is anticipated to become enhanced and solar wind speeds are expected to climb towards 650 km/s later on the 27th; likely causing G1 storm conditions. Geomagnetic activity is expected to escalate further in reaction to  elevated solar wind speeds approaching 700 km/s, likely leading to G2 storm levels on Saturday, September 28. Enhanced activity is anticipated to continue into early Sunday, September 29 - with an early period of G1 storm levels likely.
Refer to our most current 3-Day Forecast for the latest timing information and the Forecast Discussion for more details about this activity.