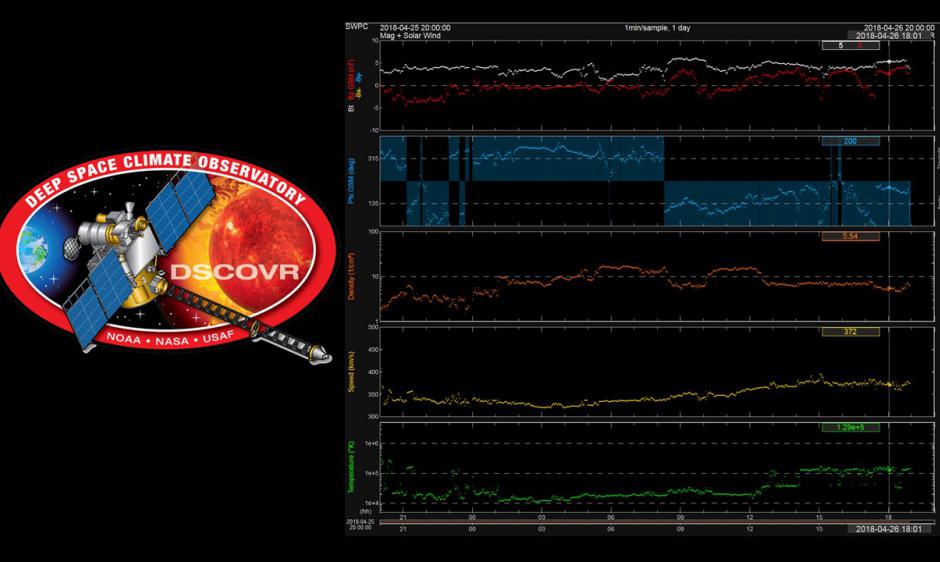 Real Time Solar Wind and NOAA's DSCOVR Satellite
published: Thursday, April 26, 2018 19:17 UTC
NOAA's Deep Space Climate Observatory (DSCOVR) remains the nation's primary real-time solar wind (RTSW) monitoring spacecraft. The satellite maintains an orbit at the L1 area – a neutral gravity point about 1 million miles from Earth and directly between the Sun and our planet. At this location, the solar wind environment is measured and typically allows for 15 to 60 minutes lead time of the solar wind before it reaches Earth.
DSCOVR measures solar wind parameters (speed, temperature, and density) with the solar wind plasma sensor (Faraday Cup) instrument and samples the interplanetary magnetic field (IMF) via a magnetometer. The DSCOVR instruments perform reliably during most solar wind conditions.  Occasionally, very low density solar wind environments cause erroneous speed, density, and temperature values.  When SWPC forecasters recognize erroneous data, and NASA's Advanced Composition Explorer (ACE) spacecraft solar wind data are available and not showing the same errors, they'll switch the RTSW source to ACE, which also operates at the L1 Lagrange point.
This transition involves coordination with the antenna tracking stations established around the Earth and can result in short periods of no RTSW data until the stations have made the required changes to lock onto, track and process ACE data. SWPC forecasters continue to monitor DSCOVR data during these periods, and when they feel data is reliable, they will coordinate the changes required to track and process DSCOVR data again.
DSCOVR team experts are working to implement a solution to this problem over the next several months.