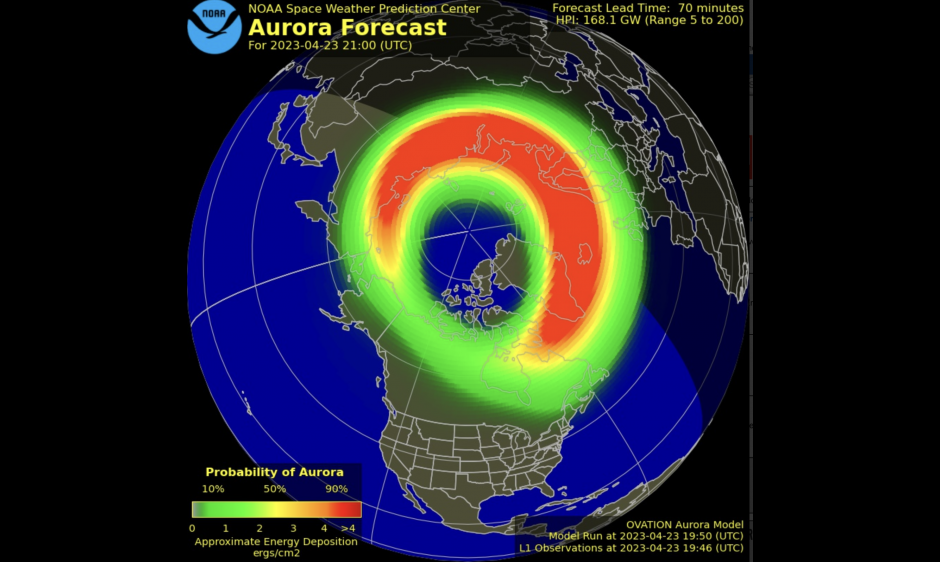 Update - G4 Storm Observed - Sunday April 23, 2023
published: Tuesday, April 25, 2023 06:58 UTC
UPDATE:  Solar wind conditions continue to suggest the potential for severe (G4) storms overnight. 
A warning remains in effect until 2:00 am EDT (0600 UTC), but may be extended depending on how the storm evolves.  Check our aurora dashboard for the latest aurora predictions. 
---
Starting at 1:37 PM EDT on Sunday, April 23, 2023, Earth was impacted by a Severe Geomagnetic Storm (a level 4 of 5 on NOAA's space weather G- scale). The most likely areas of impact extend across the northern tier of the United States (north of 45 degrees latitude) and into Canada. These impacts generally include widespread, yet manageable, irregularities to the power grid, spacecraft, global positioning systems, and radio communications. Additionally, if this storm persists into the evening, the Aurora Borealis may be seen as far south as Alabama and northern California. Currently, the Severe Geomagnetic Storm is expected to persist until 2:00 AM EDT on April 24, 2023.
On the afternoon of April 23, 2023, at 2:12 PM EDT, a Moderate Solar Flare (M1.7) erupted from the sun expelling a billion tons of superheated magnetized gas from the sun known as plasma. This ejection, known as a Coronal Mass Ejection (CME),  traveled at nearly two million miles per hour and reached Earth in two days. NOAA's Space Weather Prediction Center had issued a Minor Geomagnetic Storm (G1) watch for April 23, 2023, and a Moderate Geomagnetic Storm (G2) watch for April 24, 2023, with only a 5% and 30% chance of the storm reaching strong-extreme conditions on the two days. A Strong-Extreme Geomagnetic Storm Warning was issued by SWPC at 3:26 PM EDT on April 23, 2023.  The Geomagnetic Storm arrived earlier and was stronger than expected.