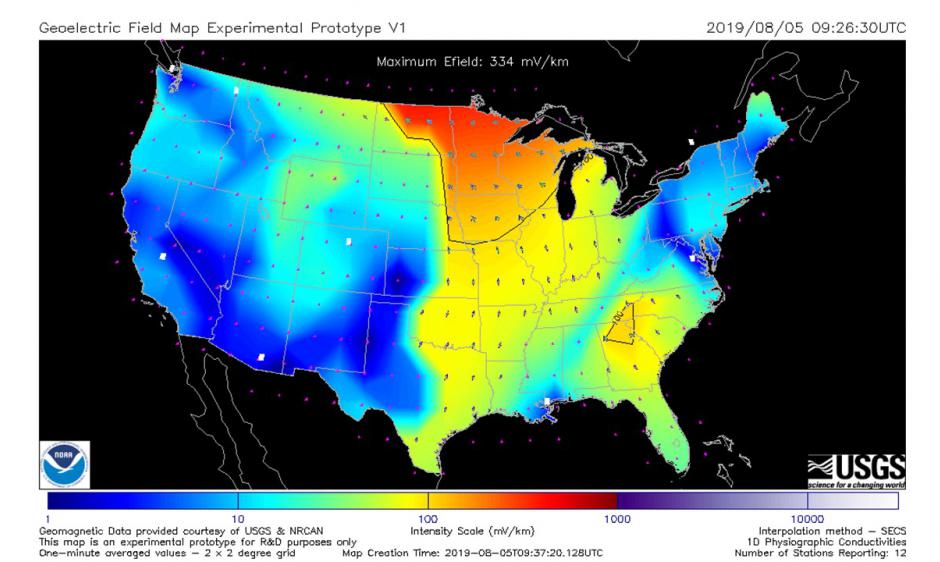 New NOAA-USGS model for electrical power grid operators
published: Monday, September 30, 2019 18:41 UTC
New NOAA-USGS model provides critical data to electrical power grid operators
This week NOAA added a new model to its suite of tools designed to help the nation deal with space weather events. The NOAA-U.S. Geological Survey (USGS) Geoelectric Field Model calculates regional electric field levels in the U.S. caused by disturbances in Earth's magnetic field from geomagnetic storms. The near real-time data indicates the level of space weather impact affecting the electrical power grid to help operators mitigate effects on critical infrastructure.
"We are always looking for ways to improve our forecasts and provide better decision support to our partners," said Clinton Wallace, director, Space Weather Prediction Center (SWPC), a division of the National Weather Service. "The Geoelectric Field Model will allow us to deliver regional space-weather impact information for the first time. Power grid operators will now be able to quickly understand who in the United States will be affected by space weather, which was a critical missing piece of information."
In the event of a coronal mass ejection, or CME, directed at Earth, SWPC forecasters will issue a warning using NOAA Space Weather Scales once the CME is detected on satellites stationed at the Lagrange Point One (L1), one million miles from Earth. These measurements at L1 provide key information on how intense the geomagnetic storm is likely to be, but until now, a critical piece of impact information was missing – which parts of the United States will be affected. 
The new model delivers graphical maps of the U.S. and gridded data files, updated every minute, that indicate both the strength and direction of the electric fields induced by the geomagnetic storm. Once the geoelectric field is known, the level of geomagnetically induced currents in the power grid can be calculated and the potential impact on the power grid can be assessed.
NOAA-USGS Geoelectric Field Model prototype shows regional geoelectric field levels for a minor geomagnetic storm on Aug. 5, 2019. The new model went operational this week, providing nowcasts of regional geoelectric field levels. The model indicates the level of space weather impact affecting the electrical power grid to help operators mitigate effects on critical infrastructure. Credit: NOAA
The Geoelectric Field Model was developed in close collaboration with the USGS, which provides U.S. magnetometer observations. USGS also transitioned a research magnetic field interpolation model into an operational code that NOAA uses to estimate the magnetic-field time series at locations between the physical observatories. USGS was the principal adviser concerning the solid-Earth conductivity aspect of the calculation.
"This collaboration between NOAA and the USGS has united research projects from the space-science and solid-Earth geophysics communities to provide a practical product of national importance," said Jeffrey Love of the USGS Geomagnetism Program.
 NOAA and USGS will upgrade the model in 2020 to incorporate more advanced Earth conductivity models. In addition, NOAA is collaborating with Space Weather Canada to develop a joint U.S. and Canadian version of the Geoelectric field model.